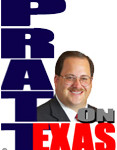 Recently I asked Texas Attorney General Ken Paxton, while appearing on Pratt on Texas, about ferreting out and prosecuting vote fraud as his office has been very active in so doing. Paxton pointed out that the legislature specifically allocates funds for this particular function for his office and that the tiny staff has been quite busy getting convictions.
I think all of us understand that policing election fraud is a core, basic function of government that has paramount importance in keeping our country. Therefore, I hope we can all agree that our legislators need to significantly fund this function of the Office of Attorney General in the budget passed in the upcoming 86th Legislature.
At the end of last week A.G. Paxton's Election Fraud Unit arrested nine individuals accused of participating in an organized illegal voting scheme in Edinburg, the county seat of Hidalgo County.
"The arrests follow an ongoing investigation into a coordinated effort by political workers to recruit people who agreed to fraudulently claim residential addresses so they could vote in specific city of Edinburg municipal races… According to Texas law, it is a second-degree felony to vote in an election using a fraudulent residence address and, under a new law, it is a first-degree felony for organizers to engage in organized election fraud activity to commit illegal voting," the A.G.'s office reported.
This year alone, Attorney General Paxton's Election Fraud Unit – with assistance from a criminal justice grant from the governor's office – has prosecuted 33 defendants for a total of 97 election fraud violations. With more than a tiny staff think how much more we could root out and prosecute.