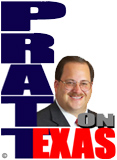 In the 2018 General Election I recommend, as you would expect, voting a straight Republican ticket but I'll be un-checking one of those before pushing the cast ballot button.
Certainly every Texan who believes in Texas, Liberty, and traditional American values should do all he can to get to the polling location to vote to return conservative champion Ted Cruz to the U.S. Senate.
There is not a Democrat on the ballot I would vote for because, since these people choose to run as Democrats, that means they subcribe to the Leftwing, radical revolutionary agenda of the party now openly embracing socialism and calling for violence against those who oppose them.
I'm a party man but I will be un-checking the box for George P. Bush. He doesn't deserve any true Texan's vote for Land Commissioner. I will not cast a vote for the Democrat as many are urging us to do.
On all the school bond issues: Just remember, bond issues are bond DEBT issues for which your taxes will be set to pay back over decades of time. Keep in mind that new and fancier things for schools have no empirical relationship to better educational outcomes.
Some folk in and around Lubbock will see High Plains Underground Water District, Precinct 1 on their ballot, in this race I fully and enthusiastically endorse incumbent Dan Seale. Also in Lubbock County is a race for the Buffalo Springs Lake board (Lubbock Co. Precint 1), I recommend Greg Lewis for that seat.
On Lubbock County's dirt-floor event center I'll be voting "NO." In the GOP primary all three winners pledged to oppose taxpayer funded entertainment venues but the lame ducks put this deal together after their losses and everything about it stinks. Voters will likely pass this measure but in so doing they are rewarding awful behavior in the courthouse.
In Taylor County, I would oppose this new permanent property tax with all my might: "Taylor County Special Election Cisco Jr. College Branch Campus Maintenance Tax." This is simply a money-grab and certainly there is much competition in Taylor County for higher education meaning that giving more money to Cisco JC is not exactly a pressing need.