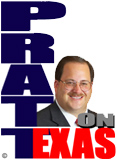 On WOTUS, the waters of the United States rule change finalized by Obama's EPA, Farm Bureau says: "The 2015 rule grants the federal government regulatory control over virtually any waters – and many land areas that only temporarily hold water – assuming a scope of authority Congress never authorized. It effectively eliminates any constraints the term "navigable" previously imposed on the agencies' Clean Water Act jurisdiction, and few, if any, waters would fall outside of federal control."
Here is Senator Ted Cruz speaking to how Beto O'Rourke expressed his support for WOTUS in their first debate:
Robert Francis O'Rourke is no friend of Texas, private property, or the Rule of Law.
Like Obama, Beto supports central control over our lives from DC through unchecked federal agencies like the abusive EPA. Those policies lead to irrevocable erosion of freedom and liberty and directly to the kind of terrible economic growth we experienced during the previous Democrat administration of which Beto O'Rourke was a major ally.