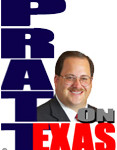 The Leftists at Texas Monthly showed their excitement last week with a story headlined: "Senate Minority Leader Chuck Schumer Is Asking About Beto O'Rourke–Ted Cruz Race."
The piece by Carlos Sanchez began with: "Democrat Beto O'Rourke of El Paso had a very good day Wednesday. Publicly, two new polls showed him within striking distance of incumbent Republican U.S. Senator Ted Cruz. Privately, his Wednesday might have been even better. That's because Senate Minority Leader Chuck Schumer, of New York, and about a dozen other senators in the Democratic leadership, suddenly became interested in the Texas race."
The striking distance polls, both of which demonstrably over-sampled Democrats, may bring even more Hollywood and East Coast money into the campaign coffers of Beto Pancho but, the telling part of those polls, in which the liberal Democrat trails Cruz by the way, was that while Cruz after his run for President is well known to voters, a large segment of voters say they don't know enough about Beto Pancho O'Rourke to like or dislike him.
On every issue brought up at his plethora of town hall campaign rallies, Democrat O'Rourke takes the far-Left positions held by New York's Chuck Schumer and California's Nancy Pelosi.
O'Rourke says he wants more so-called gun control; advocates for free, meaning taxpayer paid, college; opposes meaningful control of our border with Mexico; is in favor of readily available abortion; says it is wrong to give teachers the option of being armed to protect themselves and their students from murderous thugs; opposes strong work requirements for welfare, and; does not support the tax cuts that are causing us to keep more of our money as well as enjoy economic growth rates unknown under Obama's eight years.
Based on Texas voting patterns, I think when that big group of don't-know-enough-about-him folks learn how liberal is Beto Pancho, more than half will break toward Cruz.
My bet is Schumer and national Dems know this too.