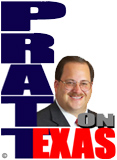 In the Texas Democratic primary election season we were treated to reference after reference from Democrat candidates in opposition to our state's enhanced spending on Mexico-border security.
Perhaps the most frequent Democrat campaign line across Texas was the promise to take money away from our enhanced border security and move it instead to the public school bureaucracy. Implicit in such statements is the idea that Republicans are wasting money on border security to gain political points as opposed to reacting to real public safety issues at the Mexican border.
Once again, the news from the border demonstrates the disconnected-from-reality nature of Texas Democrats who make ridiculous claims regularly about how safe is the border region.
A fierce gun battle between rival factions of the Gulf Cartel immediately outside the Reynosa-Pharr International Bridge zone forced panicked motorists to run for cover as the cartel gunmen unleashed a barrage of gunfire, Breitbart Texas reported after it obtained exclusive video captured from inside the offices of the Reynosa-Pharr International Bridge.
Breitbart Texas says that "convoys of cartel gunmen clashed in a Mexican neighborhood immediately south of a U.S. wildlife refuge. The fierce gun battle went on for more than an hour…"
For those of you who have little border experience, these near-weekly gun battles are often happening within bullet-travel range of Texas schools, businesses, and homes. Additionally, police have made numerous arrests in Texas of cartel members proving they are active on both sides of the Rio Grande.
It is odd how Texas Democrats are comfortable ignoring this immediate threat to the safety of people in areas who tend to most heavily vote for them. What must they think of their base?