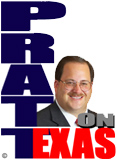 "Enough is enough. Under the plan I am announcing today, Texas will take action to limit property tax growth, secure private property rights and ensure that Texas remains the most exceptional state in the nation," Governor Greg Abbott said in a statement attached to his thirty-three page property tax reform plan.
Abbott proposes a 2.5 percent revenue cap which would apply separately to all taxing entities including cities and school districts. It's a property-tax-stream revenue cap as opposed to a limit on local tax rates.
Abbot's proposal would also limit local debt increases by requiring a super-majority of two-thirds of voters to approve local bond debt.
Under the 2.5 percent local government revenue cap, only existing non-improved property would be counted. New growth would rightly remain outside of the cap as it does now when factoring the effective tax rate.
Additionally, any increases beyond the cap would not be allowed if such exceed population growth and inflation. However I see real problems using statewide figures for such as local areas population and inflation numbers are often quite different.
Under the plan, to override the 2.5 percent cap, a city council, commissioners court, or school board would have to vote to do so with a two-thirds margin which would then place it before voters for approval.
This is aggressive pro-taxpayer leadership from Abbott and forces a starting point on the next Legislature.