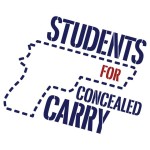 AUSTIN, TX – If students and parents think tuition at the University of Texas at Austin is too high now, wait until the university's operating costs increase by $17 million per day—or just over $6.2 billion per year—as a result of the institution's refusal to abide by the state's new campus carry law.
By ignoring the opinion of Texas Attorney General Ken Paxton and proceeding with a plan to allow occupants of privately held university offices to designate those offices as "gun-free" zones, UT-Austin President Gregory Fenves has positioned the university to incur fines of $10,000 per day, per "gun-free" office, under Texas' "wrongful exclusion" law. Now that more than 1,700 UT-Austin faculty members are pledging to refuse to allow campus carry, that adds up to enough fines to bankrupt even America's sixth-largest university.
Under the wrongful exclusion law, which took effect September 1, the Office of the Attorney General is tasked with investigating and litigating complaints regarding state agencies unlawfully prohibiting the licensed carry of handguns on state property. In light of the attorney general's December 21 opinion stating, "No provisions within [the campus carry law] authorize a president or chief executive officer to delegate this authority [to create gun-free zones] to individual professors, and reading S.B. 11 as a whole suggests that the Legislature did not intend to allow such piecemeal regulation of handguns on campus," there is little doubt that the Office of the Attorney General will find UT-Austin's "gun-free" offices to be a violation of the law.
UT-Austin's campus carry policy working group may have had the wrongful exclusion law in mind when they wrote, "We recommend that an office occupant must give oral rather than written notice." The committee claims that this recommendation is intended to prevent the proliferation of unsightly signs; however, the easiest way for a professor to give notice to students would be to include written notice in the class syllabus. The sole advantage of requiring oral notice seems to be that it makes proving that license holders are being wrongfully excluded from an office much more difficult for complainants. Fortunately for proponents of campus carry, the wrongful exclusion law does not require written notice.
The wrongful exclusion law states, "A state agency…may not provide notice by a communication described by Section 30.06, Penal Code." Texas Penal Code Section 30.06 states, "[A] person receives notice if the owner of the property or someone with apparent authority to act for the owner provides notice [that entry on the property by a license holder with a concealed handgun is forbidden,] to the person by oral or written communication."
Antonia Okafor, Southwest regional director for Students for Concealed Carry, noted, "SCC is already working on a variety of plans to document incidents of wrongful exclusion on the UT-Austin campus. One of the proposals we're considering is the offering of a cash prize to the student who documents the most verifiable cases of faculty or staff prohibiting licensed concealed carry in offices."
ABOUT STUDENTS FOR CONCEALED CARRY — Students for Concealed Carry (SCC) is a national, non-partisan, grassroots organization comprising college students, faculty, staff, and concerned citizens who believe that holders of state-issued concealed handgun licenses should be allowed the same measure of personal protection on college campuses that current laws afford them virtually everywhere else. SCC is not affiliated with the NRA or any other organization. For more information on SCC, visit ConcealedCampus.org or Facebook.com/ConcealedCampus. For more information on the debate over campus carry in Texas, visit WhyCampusCarry.com.
RELATED: