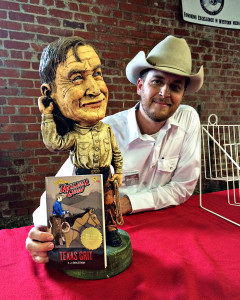 Congratulations to our good friend Nathan Dahlstrom as his book Texas Grit wins gold!
Texas Grit, book #2 in the Wilder Good series by S.J. Dahlstrom, won the Will Rogers Gold Medallion for Young Reader fiction. The awards ceremony was October 25th at the Ft. Worth Stockyards and coincided with the Red Steagall Cowboy Symposium. The awards are meant to "recognize excellence in Western literature".
Speaking of the novel Texas Grit, Award Administrator Charles Williams said "The other books in this category were written for an audience, Texas Grit was written by the audience."
Dahlstrom has written three books in the Wilder Good series with the fourth The Green Colt due in the spring of 2016. He lives and teaches Creative Writing and English in Lubbock, TX.