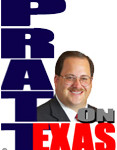 At the Leftist fake-news festival in Austin Beto Pancho O'Rourke called for Donald Trump's resignation saying such would heal the country. Even a Leftist with a functional level of intellect can fully understand the stupidity of O'Rourke's statement but then again, even a Leftist of some intellect has learned not to expect too much from the often nonsensical Beto Pancho O'Rouke.
In other news, Texas 13th Congressional District's Representative Mac Thornberry, the first Texan to chair the House Armed Services Committee, has put the rumors to rest and announced he will not run for re-election.
Expect a bevy of fake Republicans in that primary race coming especially from the Amarillo civic cheerleader crowd and the orbit of state Senator Kel Seliger – heck maybe the old fake himself will run, who knows?
One guarantee is that at the moment most of Amarillo's political power crowd, from city hall up, is dominated by those who have utter contempt conservatives – but they'll run as such.