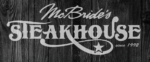 McBride's Steakhouse is located on Maplewood Avenue in Wichita Falls, Texas. Locally owned and operated since 1992, McBride's Steakhouse cooks all of their steaks in-house with 100% mesquite coals.
McBride's Steakhouse offers casual dining for you and your family with a full dinner, lunch and bar menu. With happy hours every day of the week and private banquet facilities, McBrides Steakhouse is your choice for any occasion.
McBride's is the official Pratt on Texas steakhouse in Wichita Falls and its a place with quality food and service where the owner appreciates your business. Tell owner Ford Swanson that Pratt sent you.