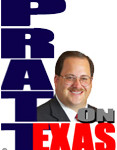 For those of you who live in Lubbock County, Monday is important to you and you need to take action now, before Monday, to contact your new county judge and all four commissioners about a vote they are set to take.
There is a huge push from the love-debt and love-high-taxes chamber of commerce and civic cheerleader crowd to ensure that the newly elected conservative commissioners, as well as the maybe-a-conservative new county judge, never have a real chance to get spending under control and hold the line on county property tax increases.
The outgoing primary defeated commissioners signed about every long term contract they could before they left, effectively tying the hands of the new conservatives.
Now, the same local groups who can never spend enough are pushing Lubbock County's commissioners to vote for a huge, $100 million bond package to build roads.
They claim it can be done without a tax increase and while I doubt that is true given all the other areas such as law enforcement that need more funding, I can guarantee that if such a bond is put on the ballot and passes, which is likely because most voters think bond money is free money, these commissioners will never get a chance to bring county spending under control.
The commissioners want to hear from you. I mean it, they want to hear from you on this. Contact Lubbock's new county judge and all four commissioners now, before Monday, on the issue.