Enter below to win a pair of tickets ($200 value!) to sit at the Pratt on Texas table at the 2019 Lubbock Sportsman's Club Hunter's Banquet & Auction on Saturday, March 2nd at the Lubbock Memorial Civic Center.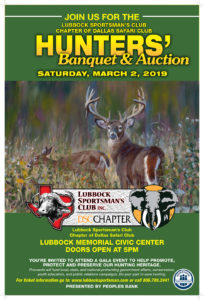 Dinner, drinks, hors d'oeuvres, games, silent, and live auctions and great fun – a great way to celebrate Texas Independence Day!

Lubbock Sportsman's Club donates $102,000 from event proceeds in 2018
One entry per person please. Entry period closes at 11pm CST on Wednesday, 27 February 2019. Winner will be notified by Thursday, 28 February.
Entry period has closed.
What:             Annual Hunters' Banquet & Auction
Who:               Lubbock Sportsman's Club, Inc., a Dallas Safari Club chapter
When:              Saturday, March 2, 2019. Doors open at 5pm.
Where:             Lubbock Memorial Civic Center
Tickets:            Tickets must be purchased in advance at https://lubbocksportsman.com/  or by calling 806-789-2441. The event has sold-out each year.
Lubbock Sportsman's Club Inc. is the inaugural local chapter club of the world-renowned Dallas Safari Club. Tim Gafford is the club president. Mission Statement: "To conserve wildlife and wilderness lands; to educate youth and the general public and to promote and protect the rights and interests of hunters in the West Texas area and worldwide."