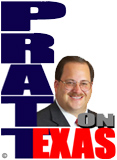 There was an interestingly written story by Freddy Gray published in The Spectator magazine headlined: "Beto O'Rourke is all hat and no cattle" with a subhead of "So why has the Democratic machine fallen so madly for him?"
Pointing out that "Beto looks good and attracts lots of money," Gray writes that:
"'Betomania' is reminiscent of Obama-mania in the late Noughties; the men have the same initials, too. Like Obama, O'Rourke excels at what Sarah Palin called 'that hopey-changey stuff'. He's energetic and positive. He has lots of irritatingly upbeat young fans. Celebrities fell over themselves to endorse him in his midterm race: Beyoncé, LeBron James, Eva Longoria, Ellen DeGeneres and more.
'He's Obama, but white,' said one Democratic operative this week. 'All the guy would have to do is send out one email to his fundraising base and he raises $30 million… It completely changes the game if Beto runs. And he should run.'"
The story goes on to point out how empty O'Rourke's resume is, being "all hat and no cattle."
"A more intriguing question," Gray writes, "is why the Democratic machine seems to be falling for a man who has only been a congressman for five years, and who just lost the only major battle he has fought. The answer might be that his party, like almost all established parties, is in deep crisis. They need a hero; they've found a Beto."
Gray says the answer is that "Beto… strikes the party leader-ship as a unifying figure, at once progressive and elite. Like the Canadian Prime Minister, Justin Trudeau, he's handsome and safe. He ticks all the right lefty boxes — gun control, higher taxes, abortion rights, legalized marijuana. Yet he wouldn't say anything that might upset the Clinton family or the Davos World Economic Forum. So what if he's lightweight? The man can run."