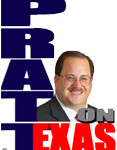 Pratt on Texas has been relatively fake-Hispanic Beto Pancho O'Rourke free since the election because I don't have much interest in pure speculation from cult of personality worshipers about what their so-called star will do in the future.
Many stories are out about how they expect El Paso's rich boy, boarding schooled white guy, who speaks Spanish if you missed it, may run for nomination by the Democrats for president in the next cycle. I doubt if he does that he will make it far but I certainly cannot predict what a party of relatively angry and crazy people will do.
What I can predict this: Up to three dozen will seriously explore a run in 2020 for the Democrats' nomination and many in that pack are far more adept at defining their opponents negatively than the can't-we-all-just-come-together vapid liberal O'Rourke.
If you think the aptly-named, radical Castro brothers of San Antonio will just sit by and let O'Rourke continue his charade of being a sort-of Hispanic and regular guy, you are as naïve as Beto. If Julian Castro sees O'Rourke as a real threat you'll be treated to a personal thrashing of O'Rourke like nothing a Republican would do and it will get full media coverage in numerous major Texas press outlets.
The Austin paper's Jonathan Tilove wrote a long piece on why Beto Pancho may be headed toward a run for president but there was only one consequential sentence in the story and it was this: "That, at least so far in his career, O'Rourke has been more style than substance, has not slowed him down."
The media is happy to tell you this after the recent election. Other Democrats, which includes the media, will tell you this daily if O'Rourke runs against more favored candidates like Castro of Bexar.
Update: After writing this commentary I came across this interesting national piece arguing much of what I have said but encouraging him to stay in Texas working to turn Texas back to Democrats: How the Beto Bubble Could Burst