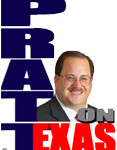 I laughed aloud when I saw this headline in the Austin American-Statesman: "How Democrats were caught off guard in speaker race."
Why, when Republicans are a big majority in the Texas Legislature should Democrats even entertain the idea that they have a role in who is elected the next speaker? Democrats didn't seek Republican permission to elect any of the speakers to whom they gave the gavel over a century. But the reason they think they have a role now is only because of Joe Straus and his merry band of turncoat Judas-Republicans who did a deal with them to gain power.
The story detailed how crestfallen are House Democrats who believed the House GOP caucus was so fractured that they would be able to team up with one small turncoat group or another to have leverage over who gains the body's gavel. "That leverage evaporated Monday," was the second sentence of the Statesman's story and referred to Representative Dennis Bonnen having won over enough Republicans, as well as a few Democrats, to ensure his election as speaker in January.
"It was like a convergence of things (Monday) that changed (the Democrats' plan) very quickly, in that the Republicans … started leaving the different candidates and rallying behind one candidate, making it more difficult for Democrats to have a role to play, and losing our potential leverage for any kind of concessions," said Rep. Donna Howard, D-Austin to the American-Statesman.
Good. That's the way it should be based on the numbers in the Texas House.