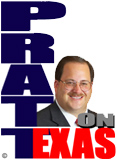 "A new Quinnipiac University poll released Thursday has U.S Rep. Beto O'Rourke, D-El Paso, stalled at 9 points behind U.S. Sen. Ted Cruz, R-Texas, 54 percent to 45 percent, among likely voters, right where the U.S. Senate race stood in its Sept. 18 survey," reported the Austin American-Statesman on Thursday.
The story contained this:
"Is the Beto bubble bursting or just hissing away with a slow leak? With less than four weeks until Election Day, Congressman Beto O'Rourke has hit a wall and remains the same 9 points behind Sen. Ted Cruz as he was when Quinnipiac University polled the race last month," said Peter A. Brown, assistant director of the poll.
This bit is extremely interesting because it goes against the media narrative that developed over the summer in this race:
The poll found that 52 percent viewed Cruz favorably and 44 percent unfavorably, while 45 percent viewed O'Rourke favorably and 47 percent unfavorably.
"O'Rourke may be attracting massive crowds, but Cruz has a better favorability rating," Brown said.
So how is it that Mr. Hip, Mr. Cool, who curses with vulgar words on the stump and in media interviews; skateboards in parking lots, and; claims he is all about being Mr. Nice Guy and above it all, now after more exposure to Texans, finds himself with a lower favorability rating than, we are told hated-by-everyone, Ted Cruz?
Ted Cruz was never unpopular in the way the media portrayed him. And, Beto Pancho Lefty's schtick is just that, an affected act which wears thin to those with life experience after more exposure.