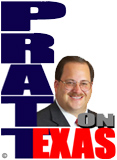 Rep. Beto O'Rourke, the El Paso member of Congress who has been an elected politician far longer than Ted Cruz, last week voted in the U.S. House against the Protecting Family and Small Business Tax Cuts Act of 2018, which would make the individual and small business tax cuts permanent.
Beto Pancho Lefty also voted last week against the Family Savings Act of 2018 (H.R.6757), which would expand access to new and existing savings vehicles and help businesses provide retirement plans for workers.
"This week alone he [O'Rourke] voted against making tax cuts permanent and against measures that would expand access to savings vehicles and provide worker retirement plans. Beto's record proves he thinks the government knows better how to spend Texans' money than they do. That is not the Texas way," said Catherine Frazier, our friend with the Ted Cruz campaign.
Since the state media is reticent to point it out, the Cruz campaign must and they remind us that Congressman Beto O'Rourke has a long and troubling record of supporting new and higher taxes. As a U.S. Representative, he:
Voted against the 2017 Tax Cuts and Jobs Act, which doubled the child tax credit, provided rate cuts for individual taxpayers in all brackets, repealed Obamacare's individual mandate, and now allows Texans to deduct up to $10,000 in their property taxes.
Voted against repealing the Death Tax
Voted against child Tax Credit Expansion
What farmer, rancher, or small businessman wants his life's work to be divided up and sold off when he dies because heirs need the cash to pay taxes a second time on the business?
Well, inheritance tax, or death tax, is an original staple of the Marxist/Communist Left and O'Rourke well fits that description.
Voting against the tax cuts the first time and again last week is voting against every working Texan, now if they'll only vote against him.