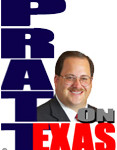 In a clear case of demagoguery, appealing to the prejudices and emotions of the audience, Beto O'Rourke told a whopper of a lie to a campaign audience in Lubbock.
According to coverage of the event from KJTV, the El Paso Congressman said: "I grew up in El Paso where no US Senator ever opened an office. We were the sixth largest city in the state. We went effectively unrepresented, unheard, unserved, in that community and I think a lot of people in Lubbock know the feeling."
Having been a part-time resident of El Paso and a founder of the local Young Republicans club there in the early 1990's, I immediately knew this claim to be untrue so I reached out to state Representative Matthew Schaefer of Tyler who worked for Senator Phil Gramm at the time.
"Sen. Phil Gramm had an office in El Paso for many years that was served by his regional director Margie Velez who lived in El Paso.  Gramm visited El Paso many times.  I went there with him myself when I served as his West Texas regional Director. Beto's claim is simply false," Rep. Schaefer said in a statement provided exclusively to Pratt on Texas.
I'm not sure if Senator Kay Bailey Hutchison had an office in El Paso during her tenure but I do know that with family in the border city she was frequently there. During a Young Republicans meeting at Jackson's restaurant on Mesa, just up the road from UTEP, Senator Hutchison surprised us with a visit once.
O'Rourke simply lied betting that people in Lubbock, rather remote from the large metropolises in Texas, would feel a bond with him on the issue. Not only did at least Senator Gramm keep an office in El Paso with a local resident as director and Senator Hutchison visit frequently, Lubbock too has long had a field office for Senator Cornyn and one for Gramm before that.
Beto Pancho lied to play the Lubbock audience.