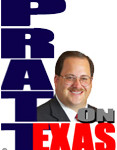 Terrible news arrived early Wednesday from a friend telling me that David Nelson had been killed in an accident. When I began work in the Republican Party in Lubbock County during the Reagan years, David Nelson was among the leaders working to take the GOP from a minority to a majority party.
Most recently David won the GOP primary election in Lubbock County for a county court-at-law judgeship which is something he had long wanted to do with his life as he, like all of us, got older.
Being a young man at the time, Nelson was among the early Republicans in Texas having served as an appointee of our first Republican Governor of the 20th Century, Bill Clements, on the Texas Commission on Jail Standards.
Nelson and I were on opposite sides of some primary races and together on others. In November we were always together behind our ticket.
When I was party chairman, Nelson was a valued member of our county's executive committee.
This brings me to a point I was making last month to someone about serving as a party precinct chairman. Generally there is little to do as a precinct chairman, who servess a member of the county party executive committee, but when there is something to do it is hugely important.
In the case of the untimely death of judge nominee David Nelson, a handful of precinct chairmen will choose the Republican Party nominee to replace him on the November ballot. That often overlooked precinct chairman job suddenly gives one person the vote of thousands.
It is worth serving and the late Mr. Nelson would agree – he served for decades.
Rest in the Peace of Christ, David.