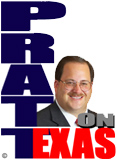 In my last commentary I pointed how Democrat U.S. Senate nominee Robert Francis "Beto" O'Rourke of El Paso has built his campaign around an idea meant to mislead voters ignorant of how big political action, or PAC, money works.
O'Rourke makes much of turning down campaign money from big interests and their PACs all to make it look as if he is independent of mind and only there for the Texans who send him a few bucks. What he knows that most voters don't is that non-connected PAC money given directly to his campaign is subject to low donation limitations. In other words, Robert Francis can't really raise millions from these donations.
But it's what else O'Rourke knows that demonstrates the dishonesty of his no PAC money charade. He knows that Super PACs cannot coordinate with him in anyway, that's why their ads must carry the disclaimer "not authorized by any candidate or candidate's committee." There are already two big money Super PACs that we know of planning of spending money to back his effort to beat Ted Cruz.
O'Rourke's B.S. about the lobby's PAC money attempts to make it seem as if he is only about representing Texas voters. However, O'Rourke has been raising money across the country including in the political Leftist basket case of Chicago.
Crain's Chicago Business reports that Robert Francis has already made a big fundraising haul out the Windy City and is now back for two more loads being gathered up by big-name Democrat Leftists living in Obama's hometown.
Liberal Democrat Robert Frances O'Rourke is well aware that he will have plenty of Leftwing PACs spending big on his behalf in Texas and he is raising money from all the Democrat honeypots around the country way away from Texas and its voters.
Why mislead about it unless O'Rourke is fundamentally dishonest and thinks fooling voters is good and proper?