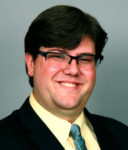 Cole Shooter hosts Pratt on Texas on Friday, 4 January 2019.
Cole is a practicing attorney-at-law in Lubbock and graduated from the Texas Tech School of Law. He holds an MBA from Wayland Baptist University and a Bachelor's degree from Texas Tech in Political Science.
Prior to law school, Cole worked for several years as a radio news anchor and fill-in show host for KFYO.
Cole was a leader of the Teenage Republicans at Lubbock High School and active volunteer in the Lubbock County Republican Party when Robert Pratt was GOP county chairman all those years ago!