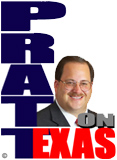 Last week the headline was "EPA Administrator Scott Pruitt Resigns amid Ethics Scandals" and it's a shame but this one we can't accurately blame fully on the Left.
Pruitt has been a dynamo in putting EPA back on its intended course of stopping major pollution as opposed to being a regulatory agency that interferes with every facet of our lives. But, like many who obtain power and high position, Pruitt destroyed his own career by being unable to govern himself. We need more of Pruitt's dive-in-head-first attitude at reforming the leviathan of government and less of Pruitt's self-scandal making – that applies up the chain of command too.
In Texas we need bold leadership to move the needle away from favoring government over the citizens who created and own government at every level. We need that leadership from people who do not make a habit of creating personal scandal that pulls the rug out from under the good work they do.
In the Texas Senate we have a strong leader in Lieutenant Governor Dan Patrick. Patrick leads on pro-citizen issues and has shown a willingness to fight back against the state's Democrat-laden media on issues. Best of all Patrick leads his life in a way that has made it quite hard for the Left to attack him anywhere except on those issues.
The Texas House of Representatives needs the same.
In January state reps will elect a new leader for the House. It's time to begin telling your state reps that you expect a strong conservative and personally principled speaker.
It is also time you ask certain state reps like Abilene's Stan Lambert; Canadian's Ken King; Odessa's Brooks Landgraf, and San Angelo's Drew Darby why they have not ruled out supporting a Democrat for Texas Speaker of the House.
Update: Rep. Landgraf of Odessa is now on the list of those pledging to support the GOP caucus nominee for speaker.