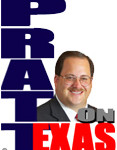 An Austin American-Statesman headline Friday read: "State audit slams Alamo oversight, appears similar to 'doctored' draft." The doctored part is explained by this other Statesman headline: "Did George P. Bush lie when he said a draft Alamo audit was 'doctored'?"
The major story by Jonathan Tilove can be summarized in this way: "The General Land Office released an internal audit critical of its management of the Alamo. The audit's conclusions are consistent with a draft audit the Statesman reported on in February. Land Commissioner George P. Bush had said that draft audit had been "doctored."
Tilove reminds: "At the time, Bush was being challenged in the Republican primary by his predecessor, Jerry Patterson, and two other candidates, who made his management of the state's most hallowed site a central issue in the campaign. [GLO spokeswoman Brittany] Eck said then that the audit would be made public in the spring. In the meantime, Bush's campaign labeled the Statesman story "fake news," and Bush won the March 6 primary…"
So what is the answer to "Did George P. Bush lie when he said a draft Alamo audit was 'doctored'?" The answer is the same as I told you at the time: Yes.
P. Bush was caught hiding the scathing audit; threatened GLO employees who leaked it with legal punishment; held the audit until after the GOP primary runoffs would be over in case he found himself in a runoff, and; has now been discovered to have lied about the draft audit having been "doctored" to make his management look bad.
P. Bush's management and the whole Alamo affair stinks. I knew it then, I told you so, and we all know it now.
Also see this: Analysis: When George P. Bush says something is fake news, remember the Alamo