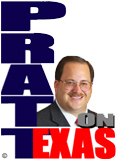 From a report by Merrill Hope at Breitbart Texas:
The University of Texas at San Antonio (UTSA) recently "banned" the David Horowitz Freedom Center from its campus after the group posted flyers illustrating the relationship between Students for Justice in Palestine (SJP) and the terrorist group Hamas.
 "In a cease and desist letter, the university maintained they issued a "criminal trespass warning" to the conservative think tank for a "posting policy violation." Freedom Center founder David Horowitz contends the matter reflects a more deeply rooted anti-Semitism problem. On Sunday, he spoke to Breitbart Texas.
"What do you call people who think that Hitler was a great guy and they didn't kill enough Jews?" he posed, referring to a flyer that quoted purported SJP activist Nancy Salem. She tweeted: "How many Jews died in the Holocaust? Not enough." Last year, an Arlington preschool fired teacher Salem following an investigation into her alleged anti-Semitic social media posts."
"Horowitz said that the Freedom Center stands up for Jewish students facing anti-Semitism from campus hate groups. "They know full well that a student who puts up our posters would be subject to punishments and harassment. The students are afraid to do it," said Horowitz. "That's why we post."
"Horowitz cautioned UTSA "has already taken sides." He also noted a chilling campus climate change. "I can tell you that when we started these campaigns some years ago, SJP activists used to tear [the posters] down. Now the universities do."
That is a state school so what it does is done in your name.