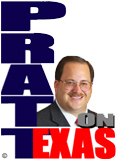 "Judge Elizabeth Davis Frizell has filed a lawsuit against her opponent in the Democratic Primary race for Dallas County District Attorney," read the subhead at WFAA.
WFAA reported that "Frizell, who stepped down from the bench one year ago to run for DA, also raises concerns over an ongoing Dallas County investigation into possible voter fraud.
"In the lawsuit, Frizell alleges that "ineligible, illegal and fraudulent mail in ballots" were included in the total vote count that could have changed the results. The lawsuit states Creuzot achieved a slim victory of a 589 vote difference in the total count, Creuzot receiving 56,645 votes and Frizell with 56,056.
"As Elections Office workers were preparing for early voting, another alleged voter fraud scheme surfaced. Some voters in communities like West Dallas and Oak Cliff alleged their signatures were forged on mail-in ballot applications, or voters received mail-in ballots which they never requested. The current DA's office filed a lawsuit, back in February, asking the court's permission to sequester some applications for mail ballots. About 1200 applications are being examined," the story reminded.
So once again we Texans have legitimate, supportable allegations of systemic election fraud in, as almost always, the Democratic Primary in a county run and controlled by Democrats. And yet, when Republicans in the legislature attempt to tighten rules to prevent such it is Democrat officials who run before the waiting microphones to claim the GOP is just trying to keep minorities and poor people from voting.
The more we learn the more I think our old friend Dr. Joe Hnatek may be right suggesting we need to end ballot by mail in most circumstances. There are other ways to let shut-ins vote.