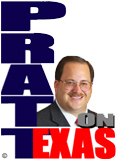 Texas Democrats ended up with a runoff primary election for their nominee to lose to Greg Abbott in the race for Texas governor. Lesbian former sheriff Lupe Valdez pulled 42.89% in a 9-person race with Andrew White making the runoff with just 27.37% of Democrat votes.
For today's Texas Democrats Lupe Valdez is everything they want: homosexual, female, minority, and very liberal. Andrew White is too, well white and conventional. I bet if Valdez had not been saddled with the burden in Dem-circles of being law enforcement, she could have won the 9-way race outright.
Andrew White is too, well white and conventional.
The most meaningful races for Texas Democrats were in a few congressional districts that might just be winnable from Republicans this fall. Whether the party of the radical revolution talk nominated solid, sane, winnable candidates in those key races is still to be seen.
In the Texas Senate race for District 31 liberal Republican Kel Seliger appears to have won the 3-way race with just slightly over 50% of the vote. Seliger won re-election by turning out very big numbers in one place: Randall County. A slight fall-off in Randall County would have put the race in a runoff.
Among the worst defeats for a non-scandal-plagued incumbent I have ever witnessed was in Senate District 30 where longtime Senator Craig Estes, in a 3-way race, only pulled 22.60% of the vote and Representative Pat Fallon, the main challenger pulled landslide numbers with 62%.
The SD30 and SD31 votes provide a guide to incumbents: If you generally hide from the media and hard questions year-around make sure, as Seliger did and Estes did not, that local media back home will still run your puffery and propaganda as if you were talking to them and as if they were asking you questions.