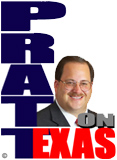 Early voting in the 2018 Republican Party's primary election begins Tuesday, 20 February. Here are my recommendations and endorsements for the statewide part of the ballot:
I fully endorse:
Ted Cruz for U.S. Senator
Greg Abbott for Texas Governor;
Dan Patrick for Lieutenant Governor
Ken Paxton for Attorney General
Glenn Hegar for Comptroller
Though we've had substantial differences with each other, for Commissioner of the General Land Office I'll be voting for Jerry Patterson to return to the job. But what is most important is that you vote for either Patterson or Rick Range in order to force a run-off so that we can end George P. Bush's tenure in the office he's made a mess of.
For Agriculture Commissioner I recommend we keep Sid Miller in office. His opponent is a well-off Austin lobbyist backed by the Austin-swamp and has zero in his resume related directly to agriculture.
In the race for Railroad Commissioner, I recommend Christi Craddick for re-election.
There are two competitive races for the Texas Court of Criminal Appeals. In the race for presiding judge I am recommending challenger, Justice on Texas Fifth District Court of Appeals and Texas Tech Law School graduate, David Bridges. It is time scandal-plagued incumbent Sharon Keller is sent packing.
In the race for Judge, Place 8 on the Court of Criminal Appeals I recommend Judge Dib Waldrip who has appeared on Pratt on Texas.
More recommendations and endorsements coming in Monday's commentary.