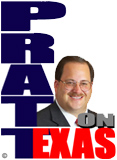 Have you noticed the demagogic nature of Senator Kel Seliger's re-elect radio adverts?
The ads use the leftwing tactic of dividing to conquer, pitting rural Texans against their urban customers.
"But legislators from urban areas like Dallas, Houston and Austin see the South Plains more like their personal convenience store. We produce the food they want, the energy they need..," the ad says. It goes on to say the urban folk "take huge amount of our tax dollars."
The point of the demagogic advertisement seems to be that farmers and ranchers, and others in rural Texas, need to have Kel Seliger standing up for them in Austin because otherwise those urban folk will do 'em wrong.
Forgetting the fact that those urban folk are the customers for rural Texas' farmers and ranchers and that there hasn't been any significant urban versus rural legislative fight for which Kel Seliger proved to be a champion of rural Texas, let's remember a few things about ol' Kel.
First, Kel Seliger is a financially well-off urban guy. He was not once mayor of Matador, he was mayor of the urban City of Amarillo.
Even in the days of an almost all Democrat legislature, rural Democrats were generally more conservative voting and urban Dems more liberal. Under Republican control we do not see this trend as our urban/suburban Republican senators are often more conservative than self-proclaimed rural champions like Seliger.
How does Kel Seliger explain how even in the Rice University Baker Institute academic study of how Texas legislators vote, no scorecard from a conservative group, Kel Seliger is the most leftwing, liberal voting Republican in the Texas Senate?