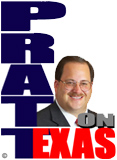 There are legitimate reasons to be uncomfortable with newer Republican Party of Texas rules which allow the official censure of officeholders at the county party and state party levels. But, the primary season is giving example after example of why the rule may need to be exercised more as opposed to less.
The censure resolutions are made possible by Rule 44 and at the state level the rule requires a high-bar of a two-thirds vote of the state executive committee to pass a censure motion. The purpose of Rule 44 seems to be to allow the actual party apparatus to speak forcefully to the public about officeholders who seek and win the Republican Party of Texas' nomination to represent its members, but then actively work to oppose the platform and resolution positions taken by those members.
Recently the Republican Party of Texas executive committee passed a motion of censure against the current, albeit outgoing, speaker of the Texas House of Representatives who has, undeniably, worked to thwart passage of clear Republican Party initiatives. He carries the GOP brand but has worked to damage that brand and to promote competing ideas far distant from those in the Texas GOP platform.
Rule 44 makes some uneasy for good reason but the advertising in this primary season makes a good case for an even stronger rule.
For example, state Senator Kel Seliger is running re-elect ads which in every phrase describe him as a conservative. Same with state Rep. Ken King also of the Panhandle.
Both are not conservatives and empirical data from outside the partisan political groups such as Rice University's Baker Institute demonstrate the falsehood of either King or Seliger claiming to be part of the conservative wing of GOP legislative caucuses.
Their willingness to outright lie makes one wish for a some sort of super-Rule-44!