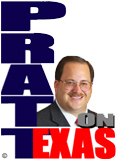 One wonders who is advising Lubbock's Dan Pope who has filed for another two-year term as mayor? At least give credit for the man's campaign slogan matching the tax and spend record of the Hub City's government.
In a new graphic, Pope has chosen the State of Wisconsin's motto for his re-elect effort: FORWARD.
"Many Communist and radical publications and entities throughout the 19th and 20th centuries had the name "Forward!"," reminds The Washington Times. Leftists around the world still use such today.
Take a look at the sign on all the lecterns used in the Hillary Clinton campaign and you'll find the top word in all caps and bold being FORWARD.
There was a fun piece at TheGatewayPundit in 2012 headlined: "Obama's New Campaign Slogan "Forward!" Is a Hitler Youth Marching Tune."
Pope might have done better to adopt the classic "Better dead than Red" and append the word "Ink" to the anti-communist slogan to announce a bid to stop the increasing debt and tax burden in Lubbock. But, such wouldn't be in keeping with practice.
I always wonder how local folk can be so ignorant of such meaningful terms and yet think themselves our betters when it comes to running our lives through government.
Maybe if I ever put my name on another ballot I'd really shock 'em all by borrowing a slogan from Italian Fascist Benito Mussolini: "Me ne frego!" which I'm instructed to believe means "I don't give a damn!"