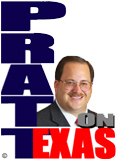 There was a big AP article out over the weekend that ran in media outlets across the nation. The headline? "Lack Of Transparency Clouds Texas Spending After Harvey."
Almost hilariously CBSDFW covered the story on-camera by leading off with a discussion about private Red Cross donations and questions over how that money was spent. The AP story is about government spending through Texas state agencies, not charitable organizations.
I am more concerned about government spending and waste than anyone who works for the Associated Press and took the time to read the full-length AP release. The problem? Despite the AP's headline, there really is no problem shown in the story.
In fact, the AP tries to make the case that federal agency spending is far better tracked and transparent than that of Texas state agencies. Overall I find the idea of FEMA and other federal agencies being more transparent thus trustworthy to be laughable.
The entire story hinges on this might-, if-, could-type lynch pin: "Disaster recovery experts say the lack of transparency in Texas could hinder coordination, encourage fraud and squander an opportunity not only to rebuild after one of the country's costliest natural disasters, but also to mitigate the risks of the next monster storm."
Yes, there will be fraud. Yes, there will be inefficiencies. And yes, there will be a scandal here and there but it is ludicrous based on historical experience to assume that the federal government is ultimately more accountable to taxpayers than local and state agencies in Texas.
While some good points are made in the story, I rate the piece overall as just another salvo in the constant war against Texas and its conservative leadership.