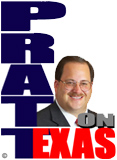 Texas lawmakers are looking into one facet of what George P. Bush and crew are doing to the Alamo in their "reimagine" [sic] plan.
This bit reported by the Texas Tribune is fun:
Because the Alamo Trust is a private organization, it and its staff aren't subject to the Texas Public Information Act. Some committee members told Bush on Tuesday that they would like to see Alamo staff working directly for the state for transparency's sake.
Bush said the Daughters of the Republic of Texas, previously caretakers of the Alamo, had a similarly private relationship with the state — not subject to the Texas Public Information Act. But committee members said one reason the group may have been unable to fully maintain the Alamo was a lack of funding. When the Legislature opted to fill that funding gap with taxpayer money, they said, more transparency was warranted about how that money is spent.
"The $75 million commitment was a commitment for the people of Texas, and it's important Texans know how we spend that money," said Senate Finance Committee Chairwoman Jane Nelson, R-Flower Mound.
Notice how P. Bush tried to the old "they did it and it was OK" excuse ignoring that part of the run-up to taking Alamo management from the DRT was the puffed up excuse that if the state is going to commit significant taxpayer dollars for repair then taxpayers need accountability for that money.
The much bigger problem with the Alamo redo is the cultural damage being done by the non-Texan liberals running it which appears designed to fundamentally lessen our honor of the sacrifice for Liberty the place represents. Which is the only reason we care about the Alamo.