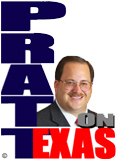 "Texas trooper slain on Thanksgiving was father of three, 15-year veteran of force," reported Robert Downen and Alyson Ward of the Houston Chronicle.
Our DPS Trooper Damon Charles Allen was shot and killed in the line of duty Thanksgiving afternoon. He was married a father of three and was murdered at the age of 41 while walking back to his patrol vehicle by a man identified by police as Dabrett Black.
Black fled the scene and was captured in Waller County hours later. He was charged with capital murder Friday morning.
"Allen was "the definition of a gentleman," said close friend Brian Bell, Mexia's chief of police. "He was fair and polite with everyone he came in contact with, and he treated everyone like they were a friend." …The trooper grew up around Mexia, married his high school sweetheart and settled down near his hometown, said Bell, who'd known him for more than a decade, according to the Houston Chronicle report.
The alleged killer, Dabrett Black, was a convict who had previously been jailed for assault on a public servant in 2015, a crime to which he pleaded guilty. And just last month, Black was indicted by a Smith County Grand Jury on two felony charges: aggravated assault against a public servant and evading arrest.
Nothing can bring Trooper Allen back to his loving family. He was murdered by someone who not only had no respect for life but has a history demonstrating no respect for the law or limits on personal behavior.
Given such a clear picture of the ungovernable nature of violent criminals, why then do so many who should know better choose to believe the fantasy that if we just pass a law banning or regulating something the criminally minded will somehow be less, well criminal?