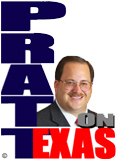 Well we've more dirty deeds for the press to ignore from the special high-paid prosecutors in the case against our Attorney General Ken Paxton.
Jon Cassidy (who else?) of the Texas Monitor reports that a new, previously sealed, document has come out in the case which shows that the prosecution mislead a Collin County grand jury to get its first indictment of Paxton on the spurious charge related to registering as an investment advisor.
In a PowerPoint presentation to the grand jury, special persecutor Brian Wice appears to have cheated the statute of limitations regarding the charge by claiming a referral to an investment advisor happened on a date in which it did not. In fact, Wice and the prosecution team possessed a document which proves that the so-called referral happened much earlier than what he told jurors. That correct date would have been outside the statute of limitations for the infraction which was, you'll remember, a minor issue that had already been handled by the states regulatory authority.
The story of the political war on Paxton, with our courts being used a weapon, is chock-full of these type of irregularities and to date, most Texas media outlets have chosen not to cover story after story which questions the appropriateness and fairness of the quest to oust Paxton.
From funny judges to equally odd charges, the case being prosecuted against Ken Paxton demonstrates that people without honor have no problem trying to destroy the honor of another man over petty insider political differences.