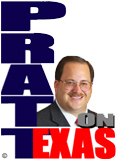 It must be fun to be a loser. That is if you are a member of the political Left. In fact, so much acclaim goes to Leftist losers one wonders why all Left-leaning losers are not among the happiest people on earth.
Jonathan Tilove, in an indirect admission of how small a life he must have when away from the Austin American-Statesman, has written one of his ludicrously long "First Reading" columns about a "133-page screenplay by Mario Correa, an accomplished Chilean-born, Brooklyn-based playwright and television and film writer, about Wendy Davis and the abortion filibuster that made her [in]famous…"
Tilove says the script came into his possession Friday and he read it over the weekend and in what seems an apology to his Austin Leftwing brethren, or is it theythren or some other gender-neutral construct, he writes: "I would have read it on Friday, but I was busy writing a Sunday story about Texas Democrats' search for a candidate to oppose Gov. Greg Abbott for re-election…"
"It is written from Davis' point of view and is hagiographic in the extreme. If you don't agree with Wendy Davis on abortion, this will not be the movie for you…," Tilove needlessly explains.
I don't much care what a Leftwing New York play write has to say about Texas politics nor do I much care what an Austin columnist thinks of a play which treats kill-'em Wendy as an secular saint.
What I find amusing is how the Left celebrates even the most ineffective and failed people as long as the person fits the narrative of being a member of this or that oppressed group.
At least the Roman Catholic Church investigates for evidence of effective miracles before nominating someone for sainthood. With the Left all you need do is lose, but get a lot of TV time when doing it.