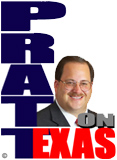 As George P. Bush uses our money to "Reimagine the Alamo" to his liking, Kenric Ward at the Texas Monitor reports that an engineering firm, Pape-Dawson, has a regular modus operandi of donating upfront services for big taxpayer projects and then ending up with big government contracts for those same projects all the while well playing the political donor game.
The Texas Monitor reports that "San Antonians familiar with Pape-Dawson say in-kind donor agreements have opened doors to lucrative contracts."
For example, the firm did pro-bono work on San Antonio's big 142-mile-long water pipeline to suck water from aquifers as far away as Bastrop and then ended up being named project manager for the $3.4 billion project. During that process, the firm's chief donated $9,500 to San Antonio's mayor.
The firm has a "donor" agreement for the Alamo project and, so far, a near million dollar contract for the same. According to campaign finance reports, the Pape-Dawson CEO has given P. Bush over eight thousand dollars and a director of the firm gave five thousand.
The public-private partnership put together to run the redo of our Alamo seems to be a pay-to-play enterprise itself. Bush's political director was quoted earlier this month as saying a $250,000 donation was a pre-condition for a seat on the Alamo Endowment and Foundation boards.
This smells as bad as Santa Anna: One has to pony up a minimum of a quarter-of-a-million dollars to sit on the Alamo boards; a significant vendor for the project is run by big donors to Land Commissioner George P. Bush, and; the Florida-reared P. Bush is the person leading a complete "reimagining" of the Shrine to Texas Liberty, our Alamo.