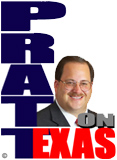 As of the time I'm writing this, the award for the worst case of using the Hurricane Harvey disaster as a political weapon goes to Texas Watch, described in the press as a consumer group tied to the Texas Trial Lawyers Association.
"If it is safe to return to your property and inspect damage, file written notice of your claim with your insurance company before September 1st to try to preserve at least some of your legal rights," said Ware Wendell, executive director of Texas Watch according to the Houston Chronicle.
The plaintiff's bar's puppet group flooded social media with a message which would scare anyone facing the disaster wrought from Harvey and most people wouldn't even be back to their homes by Friday, 1 September. Worse, the whole thing is a lie.
The lawsuit reform these scaremongers are referencing doesn't affect anything related to flood insurance which is Federally regulated.
More importantly, and this the trial lawyers know, the law doesn't change anything to do with the insurance claims process in Texas.
The law only applies way down the road, months and years in most cases, and only to someone who wants to sue their insurer for non-timely payment or under payment.
And just what does this new lawsuit reform bill do that Texas Watch implies takes away a majority of your legal rights?
It requires that an insured actually give written notice to an insurance company of a problem, a dissatisfaction if you will, before filing a lawsuit so that an insurer has a chance to fix the problem.
The Texas Trial Lawyers Association and its puppet Texas Watch have acted shamefully, wrongfully scaring people undergoing great trauma, and all to advance their political agenda.
More from the Texas Dept. of Insurance:
TDI reassures Texans: Harvey claims will be paid
The Texas Department of Insurance is reassuring Texas policyholders that storm claims will be paid and that the agency will aggressively enforce state laws and policy provisions to protect victims of Hurricane Harvey and the widespread flooding that followed.
The claims filing process and deadlines aren't changing September 1. House Bill 1774 from the last regular session does not change how homeowners file a claim, deadlines to file claims, or how insurers process claims. It also does not apply to claims with the Texas Windstorm Insurance Association or the National Flood Insurance Program.
Property owners with covered damages maintain the same rights to an insurance claim whether they file their claim before or after September 1.
TDI is sending staff to affected areas this week to help victims file claims and has extended hours for its Consumer Help Line. The TDI Help Line, 1-800-252-3439, is open from 8 a.m. to 8 p.m. Monday to Friday and 8 a.m. to 5 p.m. Saturday and Sunday.
Visit the agency's Help after Harvey webpage for more information and links to resources for homeowners who don't have flood insurance.