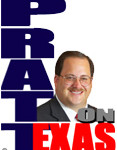 "House lawmakers double down on commitment to use Economic Stabilization Fund" read the headline at the Austin political gossip site Quorum Report. Included in the story was this paragraph:
"If the regular session left any doubt as to the philosophical gap growing between the House and Senate on using the Economic Stabilization Fund, this morning's hearing put that to rest. A trio of high-ranking Republicans – Reps. John Zerwas, Larry Gonzales and Dan Huberty – underlined the lower chamber's willingness to use ESF to underwrite education issues."
These liberal Republicans are captains on the Speaker Straus team and they are echoing the demands of Democrats over the past eight years in demanding that we spend the money in our savings account. They want to spend the savings account not for one-time unexpected expenses or budgetary shortfalls, which is what it is for and why the Rainy Day Fund's real name is Economic Stabilization Fund.
For years I've used quotes from Texas Democrat leaders and legislators in which they demanded that we spend our savings to hand out money to favored constituency groups to demonstrate that there is a strong difference in the parties in Austin.
Republicans generally have taken the fiscally responsible position that you don't spend savings for on-going expenses as to do so automatically bloats the next budget in order to keep spending at the same level while making us poorer by having less savings on the balance sheet.
Now Speaker Straus and team have decided to openly join Democrats in fiscal misconduct. They are willing to "double down on commitment to use" our state savings to pay for growth in spending.
It's time voters double down on un-electing those who enable this big slide to the Left.